So. There is this band I like. I've driven across the country to see them...
I first saw them late in their game, in '99, at South Park Meadows, which is now a strip mall. They took my mind places no one else had. The bizarre mixture of emotion and music. A hundred thousand other people celebrating the ecstasy of the moment; surrendering to the flow. 
Phish. Those bastards. They broke up in '00, and '04. Now? They're back…
Yesterday, the First, every Phish fan I know was woken up by another one telling them that they had announced three shows in
Hampton, Va.
 March 6th, 7th, and 8th of next year. Limit two tickets per person. 
I entered the lotto for tickets. Two for each night. Six tickets. $340.00.  Only charged if successful. Damn. That's a lot of cash money.
Phish...
Those bastards. Six to seven of my top ten musical experiences are Phish related.
#1. Big Cypress - Phish plays the fear-laden Y2K New Years on the Big Cypress Seminole Indian Res., over 100,000 people show up. They play four three hour sets. As well as from 11:59 to about 8 in the morning. Straight.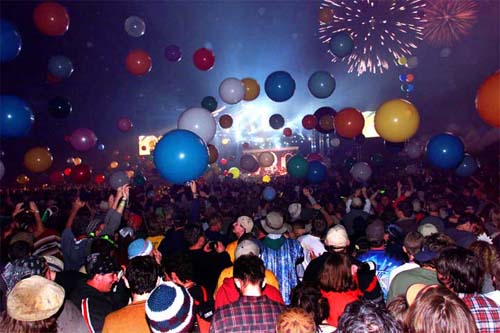 The power stayed on, no one dropped the bomb; Happy New Year - 2000!
The Big Cypress Venue, and Campgrounds.
If you were there, you know this sunrise.
#2. South Park Meadows - 9/24/99 - My first show. Kuroda turns off the lights during Lizards. The Moon eerily illuminates the audience. Sand into Misty Mountain Hop melts my mind into red gel deliciousness. 
#3. IT Festival - 8/2 & 8/3, 2003 - Loring AFB, Limestone, Maine. One mile from the Canadian border in the upper mitt of Maine. Over 100,000 people. The largest city in Maine that weekend. Phish plays six sets over two days. Ghost. 46 Days. Phish plays an hour long improv-noise set from the top of a flight control tower. Insanity.
#4. Coventry - 8/14 - 8/15, 2004 - The second last show of Phish. Coventry, Vermont. Weeping on stage, oxycotin, and rage. Mike and Trey note for note on  top of boulders.  Mud pit. Bliss.
YEM vocal jam. The 'last vocal jam'...
Shave and a haircut. Flapjacks, circa August, 2004
#5. 4th of July, 2000 - Camden, NJ. Gross. New Jersey. Camden, even. Heavy rain. Bathtub Gin. The combo is over the top. As the rain intensified, so did the Gin. Saw some hippies get rolled by some Guido's. "This is our Nitrous tank..."
#6. Las Vegas '03 - 2/15 - 2/16 - Vegas. I loathe that place. Phish. In Vegas. Debauchery prime.  No need for details. 
#7. Sandstone, Bonner Springs, KS - 7/17/03 - Crusty kid pukes on me during Cavern. Irony ensues. What ever you do, take care of your shoes. Tweezer blows my mind. We sell ice cream and lemonade in the lot.
Damn them. Leave me be. As long as Phish plays - we will be there.